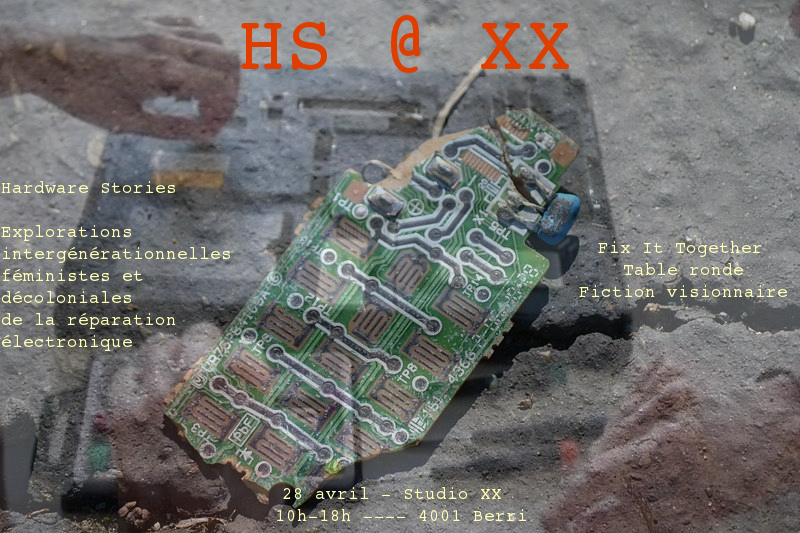 (english below)
Hardware stories est une journée de discussion et d'ateliers, pour parler et toucher a nos matérialités éléctroniques, ses circuits et circulations invisibles, ses dimensions extractivistes, coloniales et consuméristes et ce que nous faisons pour prendre soin, réparer, restorer la diversité des connexions présentes autour ces objets ?
A Tio'ta :ke (Montréal) : quelles sont nos pratiques d'acquisition, de réparations, de reliances et de mise au rebus? Qu'est-ce qui nous échappe, qu'est-ce que nous ne voyons pas? Qu'est-ce que voir et comprendre nous inspire de faire ? Qu'est-ce qui nous relient ? Qu'est-ce qui fait qu'une diversité de genre, de cultures et d'âges se sentent bienvenus, inspirés et habilités dans nos pratiques de réparation ? Quels sont nos rêves, nos désirs, nos énergies, nos élans?
Et si la réparation devenait un paradigme techno-éco-féministe et décolonial? La journée s'orientera notamment vers la visualisation commune d'un reparfest féministe et décolonial qui se tiendra au printemps au Batiment 7.
Déroulement
Atelier 1 : Fix it together : Méthodologie féministe de réparations techniques (Christina Haralanova et LN Foster )
Amène ton (petit) bidule à réparer!
Table ronde : circuits électroniques : Rendre (in)visible et (in)désirables nos artefacts numériques et leurs réparations 
– Thomas Hervé Mboa: approche décoloniale du hacking
– Sophie Toupin: hacking anticolonial
– (à confirmer)  réparation et circulations techniques à montreal.
Atelier 2 : Réparer le futur : Mettre au monde des réparations collectives (LN Foster et Goldjian)

Rédaction d'un guideline ou d'une poster pour les pratiques de réparations féministes, décoloniales et intergenerationnelles

+ Design d'une fin de semaine au  B7
---
Hardware stories is a day of discussion and workshops, to talk about and touch our electronic material, its invisible circuits and circulations, its extractivist, colonial and consumerist dimensions and what we do to take care, repair, restore the diversity of connections around these objects?
At Tio'ta:ke (Montreal): what are our acquisition, repair, reliance and disposal practices? What escapes us, what do not we see? What does seeing and understanding inspire us to do? What connects us? What makes a diversity of gender, cultures and ages feel welcome, inspired and empowered in our reparations practices? What are our dreams, our desires, our energies, our impulses? And if the repair became a techno-eco-feminist and decolonial paradigm? The day will focus in particular on the joint visualization of a feminist and decolonial reparfest to be held in the building in the spring.
Workshop 1: Fix it together: Feminist Methodology of Technical Reparations
(Christina Haralanova and EllenFoster
Bring your (little) thing to repair together
Round table: electronic circuits: Make (visible) and (in) desirable our digital artefacts and their repairs
– Thomas Hervé Mboa: decolonial approach to hacking
– Sophie Toupin: anticolonial hacking
– (to be confirmed):  repairs and technical circulations in montreal.
Workshop 2: Restorative futures : Designing events and guidelines for collective reparations (LN Foster and Goldjian)
Writing a guideline or a poster for feminist, decolonial and intergenerational repair practices
+
Design of an end week at B7